Please note: The descriptions below are from the Traditional Chinese and or "Folk Medicine" use of  herbs provided for information and not intended to replace advice from a medical doctor or to replace any drugs that are FDA approved.

         The Herbs That Promote Sexual Energy
                               (But be careful! They also promote fertility! - Male or Female!)

Many of the powerful Chinese Herbal Tonics that promote sexual energy have the wonderful "side effect" of promoting radiant health and longevity! (And vice-versa) Some people may say, "There is a God and He loves me!!!" and they would be right!
God has put in us the treasure of reproductive power with all its "delightful encouragements" for us to be fruitful and multiply. This is the most important treasure called ourJing or Essence. 
 Please see The Three Treasures here
See Info on how to use and purchase Epimedium Leaf here

One would almost feel guilty in wanting more sexual pleasure and then getting long life and radiant health along with it! But God is so good in His ultimate plan for our lives on earth!  The story of how the sex tonics came about through the ages will explain a lot. It was not at all from a "spirit of lust" that these tonics were discovered but from an honest attempt at pure health. Please read about this here.
However we must respect this treasure as we "fuel the fire" with these powerful life nurturing tonics. (Even though they can and do promote a long healthy life on this earth) A wise old Chinese saying is, "A fool and his Jing are soon departed"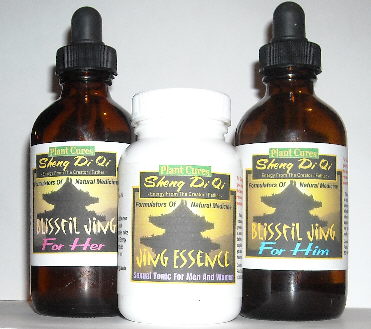 Now for couples, (And for what most people are looking for) the best example of a powerful tonic approach to boldly enhancing the pleasure, drive and energy of our primal force we call sexual pleasure would be the Blissful Jing for Him and Blissful Jing Her products. (See much more  information, FAQ's and many links about these products by going here.
Please keep in mind, the strongest tonics that effect your primal sex drive are also the best for your fertility! (Male or female) Note: He Shou Wu is great for fertility!
 You will also want to read about some single powerful sexual tonic herbs available here such as Epimedium (Yin Yang Hou – "Horny Goat Weed"),  Tian Men Dong, and many others listed under Jing Tonics (and a few under Chi Tonics) by going to  The Superior Herbs Page
Other products that are not necessarily designed as sex-tonics but will have a strong effect in that area are:
Radiant Beauty,   Long Healthy Life, and  He Shou Wu Extract.