Chris grew up in a strong Christian family and has played guitar from the age of six. To this day he says nothing could be more desiring to do. 
   Music was his sole occupation for 40 years and it is still  #1 even with his huge herbal business known worldwide as Plant Cures.

Growing up near the Tijuana border of Mexico in San Diego, Chris says, "I was so blessed by hearing the beautiful Spanish Flamenco Guitar styles from Mexican musicians and from surfing in the beautiful Pacific Ocean that it all became part of me. These Images have never been more alive to me and they have definitely entered into my music."

Besides the Latin/Flamenco influence, Chris knows the surfing experience almost as much as the guitar experience. These two naturally had to come together. This concept led to two great Instrumental CDs in a Flamenco/Surf style belonging only to Chris.  The CDs were "Full Moon In Cancun" and "Tales Of The Flamenco Surfer"  
 

Both CDs are all original Instrumentals and have incredible acoustic Latin-Flamenco guitar work with electric Surf Guitar running all through it. It's hard to imagine the blend until you hear it but when you do you'll swear its the way it was always supposed to be!
Click on CDs above to listen to all tracks or below to buy CD

Chris's masterful Flamenco lead work on the acoustic is nestled into the "wettest" electric surf-rock sound you could imagine! Both CDs are fully produced with Latin rhythm using piano, bass, marimba, bongos, shakers, Brazilian Rosewood sticks etc. This is truly some of the most beautiful music you will ever hear! These two CDs are loaded with that cinematic feel that just seems to say "they will soon become part of a soundtrack for a major film"  Licensing is availible.
 However, It was the "Blues" that influenced Chris the most!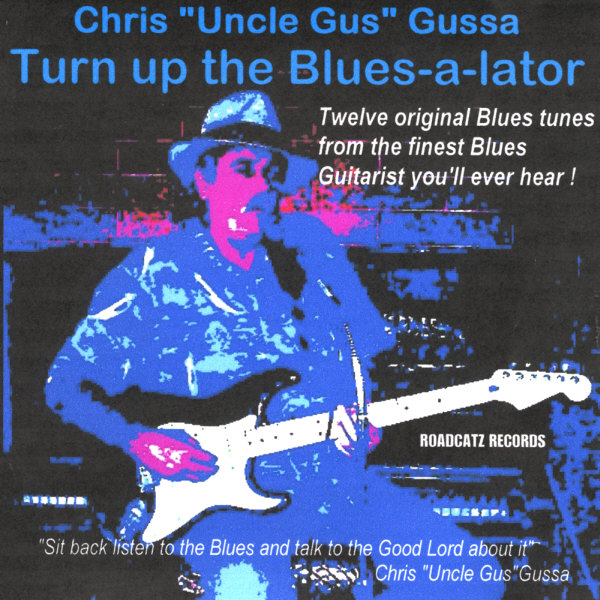 In his early days, Chris was beginning tp have a preference for Blues Style Lead Guitar by the age of ten. By the age of 16 he had his own band and won a KGB radio contest for the impressive title of "Best Blues Guitarist in San Diego"   
  
As a lead guitar player, Instrumentals have been Chris's main driving force. However, his only current vocal CD, "Turn Up The Blues-a-lator,"
has been getting a lot of attention lately in many different areas of interest. 

 Click on CD picture to listen to all tracks or here to buy CD!

NBCs "The Today Show" is using the track, "Big Juicy Burger Blues" from "Turn Up The Blues-a-lator" by incorporating it into many of their Healthy Eating segments. This humorous tune is driven by total sarcasm as Chris is very much into health.

Chris has often said, "I really don't like singing that  much, it takes my mind off of what I am doing with lead guitar which is what I do"  However Chris's love for telling a story comes out in both his lyrics and his warm voice. Chris says, "I really wasn't singing it was  just the blues and I was sort of growling out a story, that's all"   Well growling, singing, whatever it was it worked! Check out the reviews!

The music in "Turn Up The Blues-a-lator" is mostly pure Electric Blues in the truest of form. Even though they are "True Blues" these 12 original tracks are somehow all uplifting.  Much of the lyrics contain a strong Christian message and many contain good clean humor as well (Which is a bit of a miracle in itself for Hard Driving Electric Blues!)   
 
          Some of Chris's Instrumental CDs that are commercially available:  
          ( Click on titles below pictures to sample music or order at CD Baby)   
     




  
 
 Full Moon In Cancun       Tales Of The Flamenco Surfer      Christmas In Paradise       Guitars Of The Blue Cantina     Flamenco On The Rocks