Get'er Done by Plant Cures  
The Herbal Key to Real Working Energy!
 Save big on 16 oz Bottle!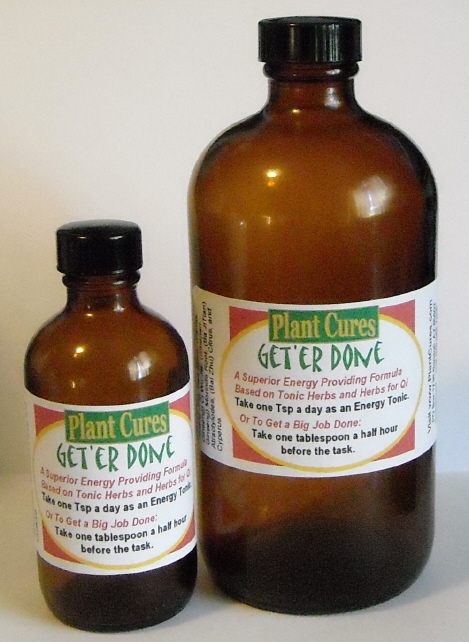 Tired? Don't even want to think about that big weeding job or overgrown lawn? Got a race to run? Want that athlete's edge?

I have tried a lot of herbal combinations for this problem, and nothing seems to work better than compounding two Ginsengs (Siberian and Panax) with chi releasing herbs like White Atractylodes (Bai Zhu) . I wanted something that made you feel like moving, like getting after the job was fun!

The Panax Ginseng In this formula is made from premium roots at least 6 years old and wild propagated. (Not wild harvasted but grown on hillsides in China where wild ginseng was found and then harvested from first genaration wild seed - It is the next best thing to wild but does not cost a fortune!) 

Herbs in the formula are  Ren Shen, (Panax Ginseng) Ci Wu Jia, (Siberian Ginseng) and  Atractylodes, (Bai Zhu) , with a little Citrus........ This will really help you Get'er Done! What ever "er" may be.
Sold in 4 and 16 oz liquid bottles:  one Tsp. a day or a full tablespoon when needed to really get'er done!


This statement has not been evaluated by the Food and Drug Administration. This product is not intended to diagnose, treat, cure or prevent any disease.
The information on this site is for information purposes only and is not intended to replace the advice of a physician. You should consult a physician or health care professional before starting on any supplement or medication if you suspect you may have a health problem