Herbs For Edema (Water retention and swelling)
Please note: The descriptions below are from the Traditional Chinese and or "Folk Medicine" use of  herbs provided for information and not intended to replace advice from a medical doctor or to replace any drugs that are FDA approved.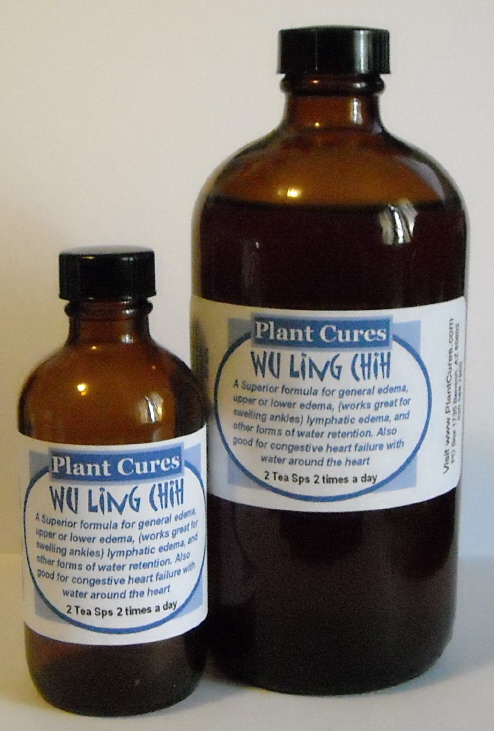 Wu Ling Chih By Plant Cures
This liquid extract formula is based on a great old reliable Chinese Formula called "Wu Ling San" (Powder of 5 herbs with Fu Ling) This is one of the greatest working examples of Classic Chinese Formulas ever!
This works fast for general edema, upper or lower edema, (works great for swelling ankles) and lymphatic edema, and other forms of water retention (even good for congestive heart failure due to water around the heart) In Chinese terms, any edema caused from an "over saturated spleen" This will not only stop water retention but will strengthen the spleen. Can be taken as often as needed. Sometimes half doses are all that is needed.
    We have used our strong liquid extracting technique in bringing this to a product that can be taken in a dose of two teaspoons twice a day. The alcohol extract version of this has made it much more efective! One four ounce bottle will last 6 days (at full dose) as a course and will get rid of most edema in this time. 

Save big on our 16 oz bottle!

 If edema is somewhat chronic and returns often for any reason this can be taken long term when ever needed with only beneficial health results as the herbs in this formula are all in the major and minor tonic class. As strongly effective as this is it is not a kidney harming diuretic.  Its diuretic action is actually good for the kidneys and water is moved in other ways also (Transforming it to where the body needs it.)

As a "side effect" It can also give a much more peaceful sleep for many people!
The 5 herbs in this fast working formula are Fu Ling, (Poria) Ze Xue, (Alisma) Zhu Ling, (Polyporius Umbellatus) Bai Zhu, (White Atractylodes) and Gui Zhi. (Cinnamon Twig)