Two Herbal Formulas Traditionally Used For High Blood Pressure

"Eucommiae Compound" by Plant Cures
 
and "Haw's Heart Rite" by Plant Cures 

(Scroll down)

The descriptions below are from the Traditional Chinese and or "Folk Medicine" use of  herbs provided for information and not intended to replace advice from a medical doctor or to replace any drugs that are FDA approved. 


"Eucommiae Compound" 

This is based on the traditional formula, "Compound Cortex Eucommiae" which is, for some reason, no longer available. So Plant Cures is now making our own product in capsules from powerful 5:1 fresh herb extracts. it does not have any yellow dye as did the old formula (in the tablets) and it is much stronger now.  You also only need 3 capsules (Not five) 3 times daily and you can often reduce that to only 2 times daily after a month or so.

This formula is for what would be considered Deficient Kidney Yang types.  Symptoms may include High Blood Pressure with a pale face, you feel cold and often complain of lower back pain, weakness, edema may be present. However this can work for people with what doctors call "Essential Hypertension" (Meaning they don't know what is causing th HBP)

Many people have weaned themselves (in about two weeks) completely off of extremely dangerous B. P. meds while taking this all natural herbal formula!

The Herbs In This Formula:
There are only four herbs in this classic formula. The first herb is Du Zhong. This is classified as a kidney yang tonic but it also tones kidney yin and is slightly diuretic as well as used for frequent urination by toning the kidneys. It is a famous blood pressure lowering tree bark. (Euccommia ulmoides)

Then we have Gou Teng. This is classified as a Liver Sedative. It dilates the capillaries and other blood vessels (While strengthening them) helping to lower B. P.

Next we have the Chinese Skullcap Root, Huang Qin. This cools heat excess in the heart and is sedative to the nerves. It is also very healthy to the structure of the nerves and is useful in destroying a broad range of germs.

Lastly we have  Xia Ku Cao or Chinese Prunella Vulgaris Flower Spikes. (Much larger than our American Prunella Vulgaris) This is a heat clearing plant that can reduce heat in the liver and bring down blood pressure very effectively. This is also helpful in stopping jaundice.
 This statement has not been evaluated by the Food and Drug Administration. This product is not intended to diagnose, treat, cure or prevent any disease.

The information on this site is for information purposes only and is not intended to replace the advice of a physician. You should consult a physician or health care
professional before starting on any supplement or medication if you suspect you may have a health problem   
---
"Haw's Heart Rite" by Plant Cures (Scroll down to buy)
   
Save big with new 16 OZ Bottle!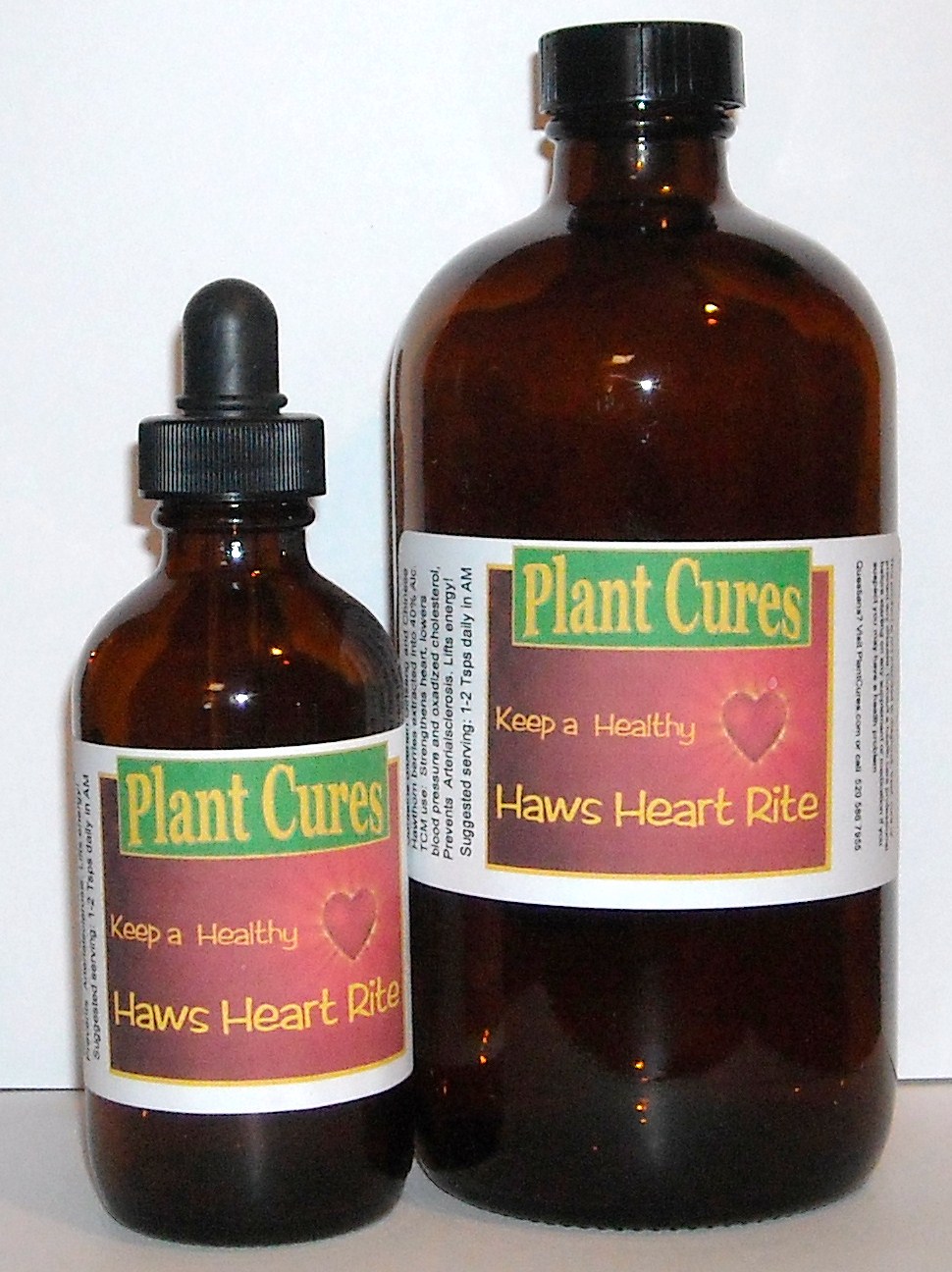 TCM uses: "Strengthens heart, Lowers Blood Pressure and Cholesterol, lefts energy, Prevents Arterial Sclerosis and Aids in the prevention of Stroke"  Wow! That's quite a list of stuff for a two herb combo.
Naturopathic Doctors and Clinical Herbalists like myself have always used Hawthorn Berries against these problems. However, I started combining Siberian Ginseng with Hawthorn at my clinic as a base for High Blood Pressure and found a quick (about I week) dramatic drop in blood pressure in about 80% of my patients. (The Siberian Ginseng seems to accelerate the effect)
This is best when the HBP is related to a heart problem.
Stroke victims should definitely be taking this combo for long term!
 It has been shown that in those communities (Mostly Europe) that eat a lot of Hawthorn Berry Jam regularly, People have fewer strokes and les hardening of the arteries. It would be a great health standard if everyone consumed a lot of hawthorn berries in any form, but this "Supercharged" version called "Haw's Heart Rite" can "make up for lost time" with a lot of folks. 

Sold in 4 oz and 16 oz liquid extract bottles.  1 teaspoon 2 times a day

This statement has not been evaluated by the Food and Drug Administration. This product is not intended to diagnose, treat, cure or prevent any disease.

The information on this site is for information purposes only and is not intended to replace the advice of a physician. You should consult a physician or health care professional before starting on any supplement or medication if you suspect you may have a health problem