Please remember we only ship to USA addresses with USA card!

Please Read "About Our Products" Below!
See "One Way Around Foreign Shipping Policies" (Just below)
       

 Hi Folks! Ordering over the net with your credit card through the Pay Pal Shopping Cart is the fast way to receive your order as we can no longer take orders over the phone. 
The Pay Pal Shopping Cart takes most cards and they are very secure .
                        Orders over $150.00 Ship Free!
 We ship priority mail only. There will be a 9 to 18 dollar shipping charge on orders under $150.00. Any orders over $150 will receive free shipping. Most orders are shipped out that day or at least within 24-48 hours.There can (rarely but sometimes) be a small 3-5 business day delay due to high volume processing of a particular product.


One Way Around Foreign Shipping Policies:

As we said at the head of this page, we cannot ship to a foreign country. This is due to your country's (and our country's) "customs policies". We can not lie about the contents. Please do not ask us to do so. We can, however, ship to US Military Bases anywhere.
 Here is what we suggest If you are in a foreign country:  

If you live in a foreign country and have a friend in the US , please give us your friend's shipping address: Then you friend can then send your order to you as a "gift".


About Our Hand Cr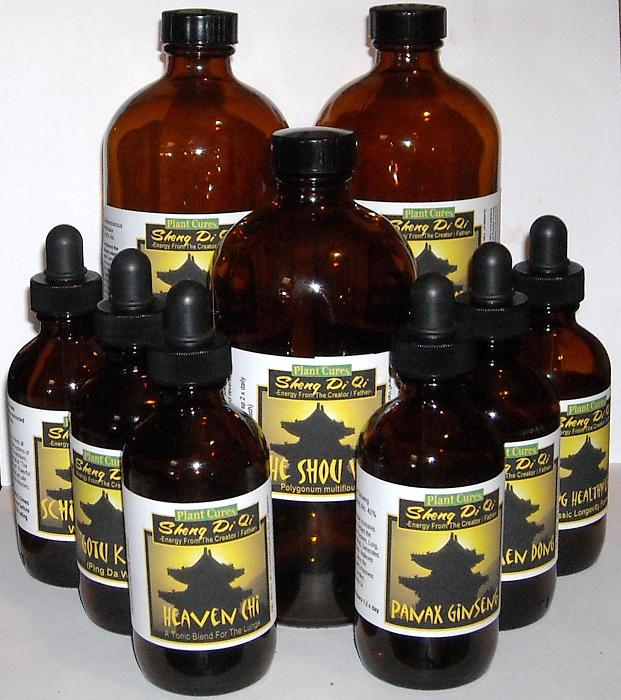 afted Products and Chinese Patent Herbal Medicines:

As a small personal business, nothing made here is done by machinery. Everything we make is made to order as ordered on that very day. This is as fresh as it comes! Our Plant Cures Products are capped or liquid poured (By hand) on the day they are mailed in most cases.
The tinctures are made by soaking in 40% organic food alcohol over a period of two weeks and constantly replaced as supplies are needed.

Sometimes you may notice some powder or smudges on our Plant Cures capsule product bottles (Or bulk teas and herb powder products) and sometimes even a drop or two of dried liquid on our liquid tincture products. This is a "Mom and Pop" business and we wash our hands many times a day as we handle the precious herbs! Honest!!  (Some people would almost think we were "compulsive" and I guess we are about this)


 Our fresh containers themselves are packed in sealed bags of six to each bag and very sanitized. Our products are never stored more than a day or two after this! Even our herbal powders we use are restocked every few days or so (Driving the UPS guy a little bit crazy! He doesn't mind though) 

We know many companies these days just order volumes of product and store them for years sometimes!  This is sure not the case with Plant Cures! Also this is the reason there is never any "expiration date" on our Plant Cures capsules or tinctures. Rest assured the Plant Cures capped products and dried goods are all very good for at least two or three years or more! (The liquid tinctures are good for up to twenty years or more (Due to alcohol tincturing) as long as kept in a dark place with the lid on tight!

As for our imported Chinese Patent Herbal Medicines:
These are manufactured in China and made from the freshest of herbs. These "Tea pills" are made from fresh herbs grown or wild crafted far away from polluted cities. They are water and alcohol extracted then concentrated with low heat to a dried solid then tumbled into round pills using absolutely no fillers! They are polished only by the tumbling process leaving you only pure concentrated herbs!

These are lab tested in the USA and guaranteed by Plum Flower to be free of any heavy metals or contaminants. Be advised that they are not USDA organic - (That is impossable to do) However I have used them for over 30 years in this business and they have my complete trust. The Chinese herbs used are laboratory tested for all heavy metals in the USA by a third party. (If even 2 parts per million show they are not used) Many turn out even better than some of the "Organic" herbs sold and grown here in the US!