Panax Ginseng - Ren Shen
Please see other members of the "Ginseng Family" here
Panax Ginseng in any form strongly Tonifies the Digestive System. Tonifies Lungs, Tonifies Qi and Blood, Generates Body Fluids, Relieves Thirst, Calms the Shen,(Spirit) Improves Mental Function, Tonifies Wei Qi (Immune system) ......All of this is why you feel energized when you take Ginseng!....

If taken as medicine it is used for fatigue, breathlessness, cold extremities or weakness, excessive blood loss,loss of fluids due to severe vomiting, diarrhea or profuse sweating, lethargy, digestive weakness, low appetite, nausea with vomiting, or organ prolapse. (Do not take during acute hot infection! )

It is also used for lung Qi deficiency with chronic cough, wheezing, shortness of breath (Great for this when combined with Wu Wei Zi) Remember to not take any Ginseng during a cold or hot  infection, however it is great to take right after these fever conditions to aid in recuperation.   Note: Panax Ginseng can raise blood preasure slighty in some people.

Strange Fact:  The most sought after and best working (and most expensive) Ginseng roots resemble the human form as this picture to the left illustrates.

We have Panax Ginseng in our powerful liquid extract and now in whole roots!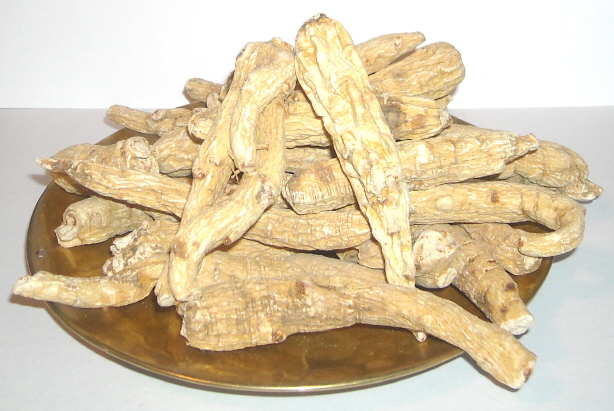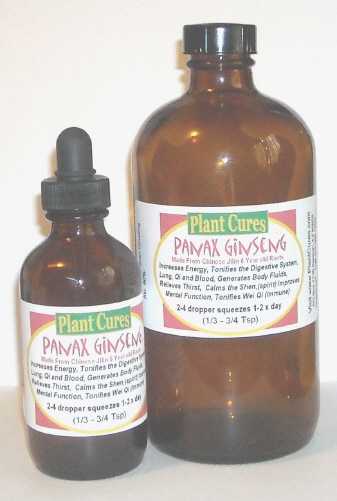 We have 4 and 16 oz bottles of our own fresh made Plant Cures Panax Ginseng Tinctured Extract made from 1st grade large  natural white roots from Jilin Provance in China. (2- 4 droppers as a dose -About 30 doses in 4 oz. and 120 doses in 16 oz)


For those that want the whole raw product for cooking or personal processing we have one pound and half pound packs of our 1st grade large Jilin Ginseng roots as seen in picture


 (Price reflects current market value of these First Grade Jilin Chinese Panax Ginseng Roots)