For God so loved the world he gave his only begotten son; that whosoever believes in Him should not perish but have everlasting life!
            Welcome To Plant Cures Incorporated
                               For questions about the status of an order, our customer service number is 520 586 7955.     
                          However, we cannot discuss herbs or products by phone. For questions email us at  
roadcatz@powerc.net 
            Please note: Picture below is our production and packaging building on our ranch. Sorry, we are not open to any visitors.
                                           
     Click on production building to see inside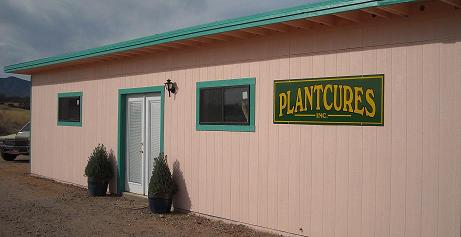 We are a family owned business in Cochise County Arizona since 1982. We handcraft over one hundred and fifty serious herbal products for sp
cific disorders and over fifty tonic herbal products.


Owner, Chris Gussa, is a Master in Traditional Chinese Herbal Medicine and has made a lifetime studing plants from China and around the world including our own Native American herbs. Meet Chris here.

We are here for those who keep their bodies running on what God has provided and for those who do not trust Pharma drugs due to bad experiences or due to just good common sense! May God bless you all with wisdom, and a long healthy life.
 


Important info on the use of herbs instead of pharma-drugs can be found here

Coming Soon! Our New Sister Website, "Plant Cures USA" Featuring A New Product Line Of All American Herbs:

See Preview of Website
---
      (At right is our beautiful Lazy J 7 Ranch, The Home of Plant Cures)
New to Plant Cures? Keep scrolling down to see some amazing things that Natural Medicine can do for you........

Suffering from swollen ankles from edema?
You need a fomula called "Wu Ling Chic" This Chinese herbal formula realy
works great!

Flu or stubborn virus?
See our 
Original Viral Defense!
Viral Defense alone can stop just about any flu or virus quickly - Many times as fast as overnight if caught early! Works against almost any infection as well. You don't want to be without this in your medicine cabinet or when travelling!
is a truly powerful longevity herb. 
It is a kidney and liver "rejuvenator" and Its very action of often restoring gray hair back to color is testimony to this. There are a whole host of other health benefits surrounding this incredible tonic herb.
 

In Traditional Chinese Herbal Medicine, Lyme Disease Is treated as Toxic Fire 

These fire toxins are treated with extreme heat clearing herbs in a formula called "Clear Toxic Heat"  Taking
Xu

 
Duan (Chinese Teasel Root) will help drive the spirochetes from the joints into the blood stream where the  "Clear Toxic Heat" can kill them.  See the whole Lyme Disease protocol here


The Original Plant Cures 

"Diet Tea Caps" can help burn fat fast!
if you call on the action of a plant based product to really help lose weight, That product is going to have to do something a little radical, right? Well this is a combination of senna leaf; a natural laxative, and Jiao gu lan or Gynostemma pentaphylum; an adaptogenic herb that is useful for ridding blood fat Then added to this is the extract of Alisma which is a natural diuretic.



Get "
Strong Defense
" For amazing Immunity. Don't get colds or Flu! 
This combination of
 Ling Zi
 (The Red "Reishi" Mushroom) and
 Huang Chi
 (Chinese Astragalus Root) in highly concentrated extract capsules is the best thing I have ever seen for prevention of colds and flu or just about any contagious disease.
 Get The Strongest Immune system ever! Get  "Strong Defense"

 

 It works!
We Have 100% Organically Grown Sun Dried Wolfberries 
Or as many call them, "Gogi" Berries (From the Chinese word; Gou Qi Zi)
See what is so good about this amazing berry!
We also have strong tinctures made from these organic berries. Read more here.